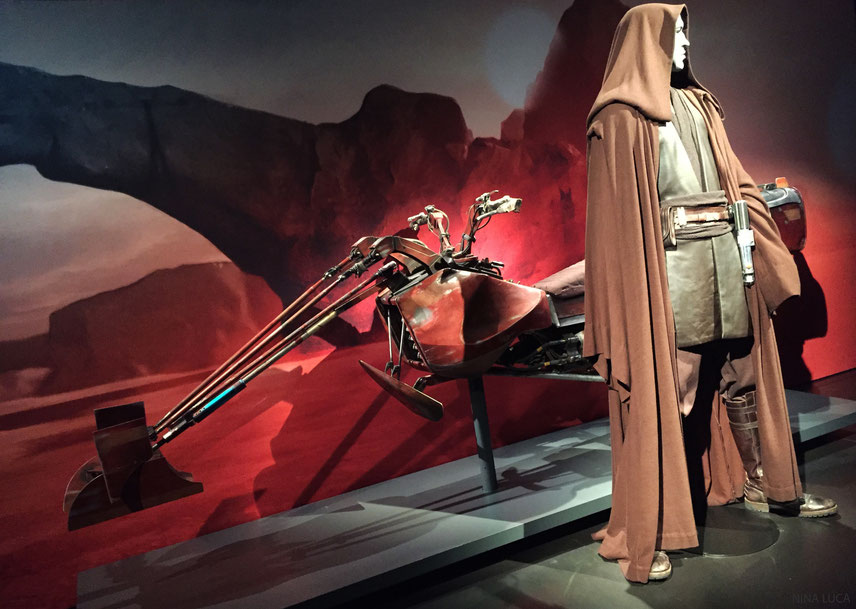 1.5 weeks ago I was in Munich at the Star Wars Identities exhibition and I had to share some of my impressions with you!
It wasn't that big but we had the chance to see a lot of costumes, models, props, different artworks and sketches. It was great to see all the details for once and it was a good inspiration for my Sith cosplay I'm planing to do. 
One of the most interesting parts was all the background informations you got and that you had the chance to see the progress of the characters. For example: first was the idea that Anakin's mother is a Jedi (!!!) and Yoda looked like a garden gnome and Luke was a woman, no kidding! Facts like this were very funny and made the exhibition interesting.
I was disappointed about the "make your own hero" part. You had the chance to create your own character - who would you be? But it was actually very simple and meaningless. You could choose the race, your origin planet, your job, if you are a Jedi or a Sith. It's something you could make in your mind, you don't need an exhibition for this. For me it would have been interesting to make kind of a psycho test and then it would create a character out of your answers. I think a lot of people would be very surprised about the race they would be or if they are on the dark side or not. That would be so cool - I would totally make this test!
But it was still a great weekend, Munich is such a beautiful city and if you ever has the chance to visit it - do it! 
And now: enjoy the photos :-)