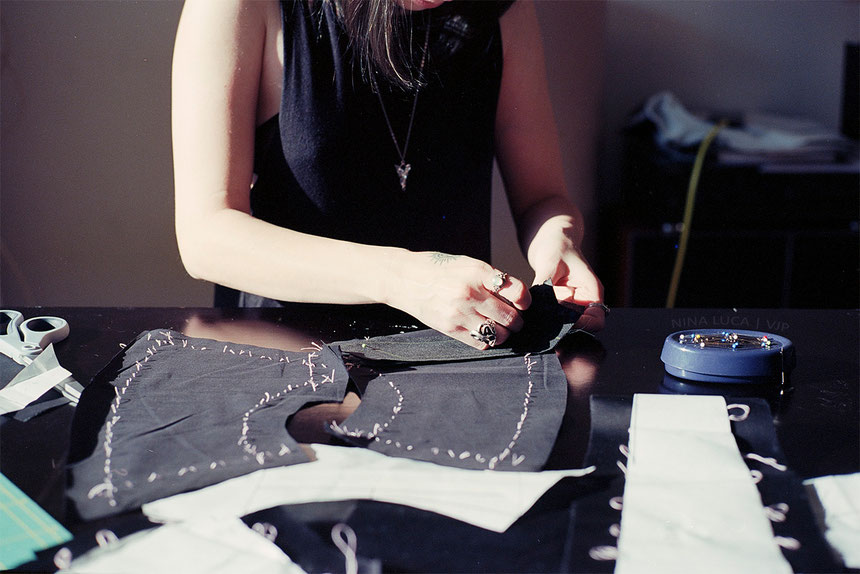 When you follow my Instagram stories you already know that I am very busy with crafting and sewing on my new cosplay for the Fantasy Basel 2017 and some of you already know that it will be a Sith Cosplay. I thought a lot about if I should do a Star Wars Cosplay or not for several reasons. One reasons was, that I would have to sew a lot and as a tailor there wouldn't be many challenges on a project like this. But damn it! I wanted to be a Sith Lord for once :-D
I love to work with other materials than fabrics that's why I try to chose Cosplay Ideas with armor parts or special weapons or something like that. Because of this I tried to create a mix between the classic Star Wars patterns and a bit of a "modern" influence while planing my Sith. I wanted some little armor parts, not only for the look but also to improve my skills with Cosplayflex (Worbla). I'm still not happy with the result but I'm very happy with the progress I made from the last time I worked with Cosplayflex and this is extremely motivating! 
I wanted this cosplay to be qualitatively better than my last ones, that's why I sewed a lot by hand and not with the sewing machine and I spend a lot of time in details like the fish leather part on the waist and the double collar. As I started I knew I can't finish the Cosplay, with all those details that take so much time, for the Fantasy Basel. It will be an ongoing project and it will take time to finish it completely. 
I'm already excited for the Fantasy Basel and also a bit curios how it will be and how my not finished cosplay will look. But I can't wait to spend that day with my friends and a lot of other great people and cosplayers. Also to spend a lot of money for things I will never use again in my entire life :-P
Can't wait to show you the first state of my Sith cosplay at the end of April! 
Photos | VJP Analogue Photography