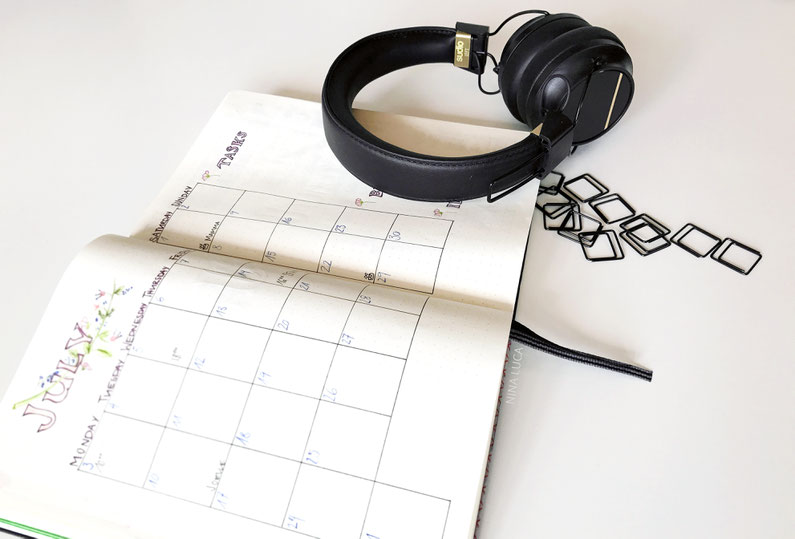 Hey there, it's me again! Two posts ago I started to talk about new projects and my new home and now I wanted to tell you a little bit more. I started with a Bullet Journal (click here for more infos) and I am already really convinced about this organization system. During my first week of using it I already did more than 10 things I had put off for months. You now may think that 10 tasks are not that much but I'm sure you know this feeling of having a little bird in your head that keeps telling you the whole time "Hey you, yeah you! You should do this!" and when you have like 10 of these little birds in your head it's so annoying - that's why 10 tasks make quote the change.
It does not only help me organizing my personal life, I want to use it to plan my new projects as well. For my new home I planned a lot of DIY's which I wanted to share with you, but the sad truth is that I'm horribly broke – so this is not going to happen for a while. That's why I want to focus on new social media platforms.
For a short while now I have a Lookbook and a Bloglovin' account additionally to my Instagram and I was thinking about making a Patreon account and maybe finally managing my Youtube channel.  
I would love to use these two platforms mostly for the sewing, crafting and cosplay stuff but of course fashion too. So it will be very hard to start new projects without money but… we will see how it will work.
And for always being up to date with 5 different social media profiles, a blog, new ideas, new projects and the personal life it is very important to have some damn good organization, that's why I set up this Bullet Journal thing.
I can recommend starting one to everyone, independent of what are you doing because the good thing is, you create it the way you like and the way it helps you - week after week and month after month. I hope it helps me saving money too so I can share some new self designed clothes and DIY's with you soon!
Thank you for stopping by on this blog post and whatever time zone you may be: "good morning, and in case I don't see ya, good afternoon, good evening and good night!"
Quote: The Truman Show
Notebook | A5 dotted by Leuchtturm1917
Headphones | Sudio Sweden | get 15% with the code ninaluca15
Paperclips | Fullfölja Ikea