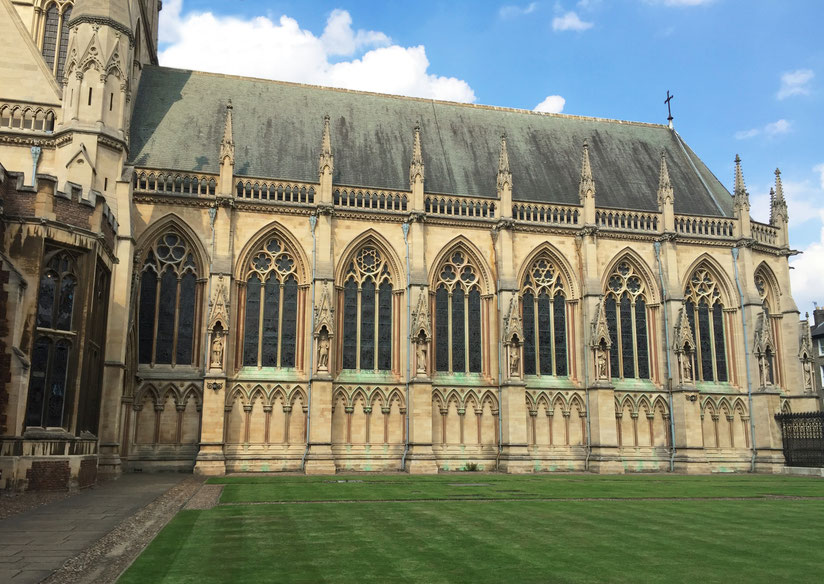 I was so nervous - the morning when I stood at the airport with my dear friend Joelle, knowing I was on my way to England, for one month, alone in a city I had never seen before. But why had I decided to take this step and how did I plan this journey? I will tell you my tips and tricks in twelve easy steps and I created a printable checklist as a little helper to planning your own one.

Why I wanted to make this

I had my blog, my Instagram and my photos but I wasn't able to tell you anything about what I do and who I am – my English was horrible and this was my motivation to improve it and I thought the best way for doing so was going to England. It wasn't only a good way to learn English fast and effectively, it was also to prove myself that I am strong enough to rock this journey even with my anxiety problems.

Planning a language holiday

First, I had to pick a date I wanted to go and when it would be possible to take my vacation at work for a few weeks – and don't forget to take an extra week for when you come back, believe me you will need this extra week! And take enough time to plan all this, I started planning about 5 months in advance!

Second, I had to choose a city – I wanted something very British: the typical British lawn and the red brick houses and some of the gothic architecture. With these goals in mind it was very easy – I wanted to go to Cambridge!

Third, it was time for the two most expensive parts: the school and renting a room. Most of the schools offer rooms in student houses and host families and advise you on all options they have – so everyone can choose what works best for themselves. As for me I wanted my own bed and bathroom in a student house in the city centre, sure one of the moooost expensive choices ever but it was the "luxury" I needed.

Fourth, inform yourself about the prices in the town you will visit. How much is a loaf of bread, cheese and fruits or eating in a restaurant? What are the prices for public transports or can I rent a bike? With that information you are already able to make a rough budget plan for your everyday expenses.

Fifth, book your flight, train, bus… whatever you need to get there and come back again!

Sixth, make a budget plan for all fix costs and all variable costs and include an emergency back-up. You'll find a free checklist to download at the end of this post.

Seventh, you need a lot of stuff and I realized that you have to pack differently than for when you go on a holiday the way you're used to, because you don't go on a holiday. You're going to school and you will live there for a while so you will need your whole damn household. For this you will find a checklist too at the end.

Eight, at this time you might already get nervous -  I was extremely nervous and being afraid of flying wasn't helping at all. I meditated daily, practiced daily breathing exercises, took a walk outside and checked everyday that I hadn't forgotten anything important. Then my dear friend Joelle, she was my hero, came up with the idea that she would accompany me to Cambridge. That means she only accompanied me for one night, so I wouldn't have to fly and spend my first night alone, this was all I needed, I don't know if I had ever gone to England if she hadn't been there for me at this moment – it's great to have great friends <3

Ninth, the last few days at home, you should have everything done, organized, packed all your stuff, have your traveling tickets handy. Take these days for yourself, maybe meet some friends or enjoy the last days of gaming or crafting.

Tenth, the day before your flight is a good time to go trough your checklist again and go to bed early so you have enough energy for the next day – traveling is exhausting!

Eleventh, When you arrive it's time to check in for your room or visit your host family, take a shower and freshen up – go out and visit the town! Check out where your school is, the nearest grocery stores, drug stores, parks and restaurants, talk to the students at your home maybe you can already get in touch with someone.
If you are shy and talking to strangers doesn't come to you naturally, don't forget that every student is in the same situation as you are, they are all alone in a city they don't know and want to meet new people!

Twelfth, first day at school is exciting, I couldn't speak a word and I didn't know where to go. But when I arrived at the school everything was well organized and the staff and the teachers were so lovely and had so much patience, it was no problem if you had questions or problems and everything worked fine. You get a lot of information, you will make a level test and, and, and… there is so much to do. At the rest of your stay enjoy your time, have fun learning, meet new people and talk a lot – that's the best practice you will get.
Short review about my month in Cambridge

I learned a lot during that one month but I'm still not where I want to be. Friends of mine are still correcting my texts (thank you Zoé and Fox for this!!!!) and I use a translator for a lot of individual words which I don't know yet. But it's a good feeling, I never thought that I will be on a level like this one day and it gives me the motivation for other projects and ideas I'm working on. I made huge progress in one year and it opened a lot of new doors for me and for my blog, I mean I'm already thinking about a Youtube channel, that's ridiculous – I never dreamed that this would ever be possible!! It was a great experience and Cambridge is such a beautiful place, I can only recommend this city and the EC school if you ever think about doing this.
And now I have the promised free printable checklists I made for you to plan your own trip.

Please leave a comment below or send me a message on info@ninaluca.ch for a feedback about the lists or the text – and/or ask me something you want to know for planning your own language journey and if you already made one I'm want to hear about YOUR story!