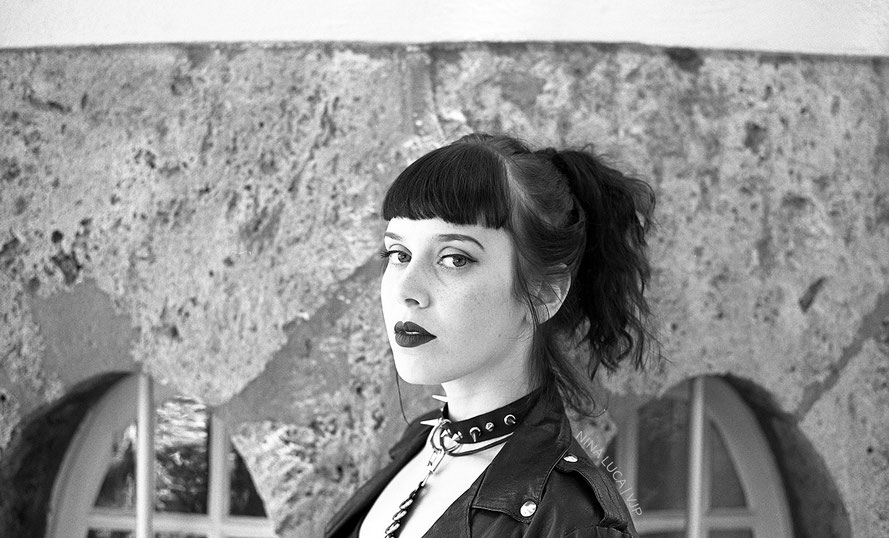 For a long time I've been thinking about how I can style this customized body harness by MechanicalHerz. I had no problems with styling it for some photo shoots but I couldn't find an outfit I like for the day - mostly the problem was, that I didn't want to look "cheap" or as if I'd compulsively try to look sexy, because I wanted to style this body harness so it looks cool and kind of rocky, cheeky! I tried different outfits: goth, rock, elegant and finally I ended up with a full leather outfit.
At first I asked myself if it's a good idea to style such a striking body harness with a full leather outfit, is it not too exaggerated for the day? And no, it's not! it's a fantastic handcrafted body harness and a piece like this needs a special outfit, that's why I finally settled on this. 
I styled it with some boots and the biker jacket to make this outfit rocky and more badass and used a dark lipstick to give it a goth touch and rounded up with a small eyeliner, made a messy bun and a put on my beloved leather skirt and finished was the outfit! 
First I was a little bit shy to go outside with an outfit like this but I ended up loving - but it will stay a special outfit for me!
And for you my darlings I got a discount code! You get 10% on your order at MechanicalHerz with the code ninaluca10 
And I have to say you that all other pieces of this outfit are second hand clothes so you can't buy the exact same pieces but maybe you've a biker jacket and a leather skirt already in your wardrobe if not I'm sure you'll find them in a second hand too!
Photos | VJP analogue photography